Better Insights.
Better Care.
Designed by caregivers, for caregivers.
Learn how our app can give better insights that lead to better care.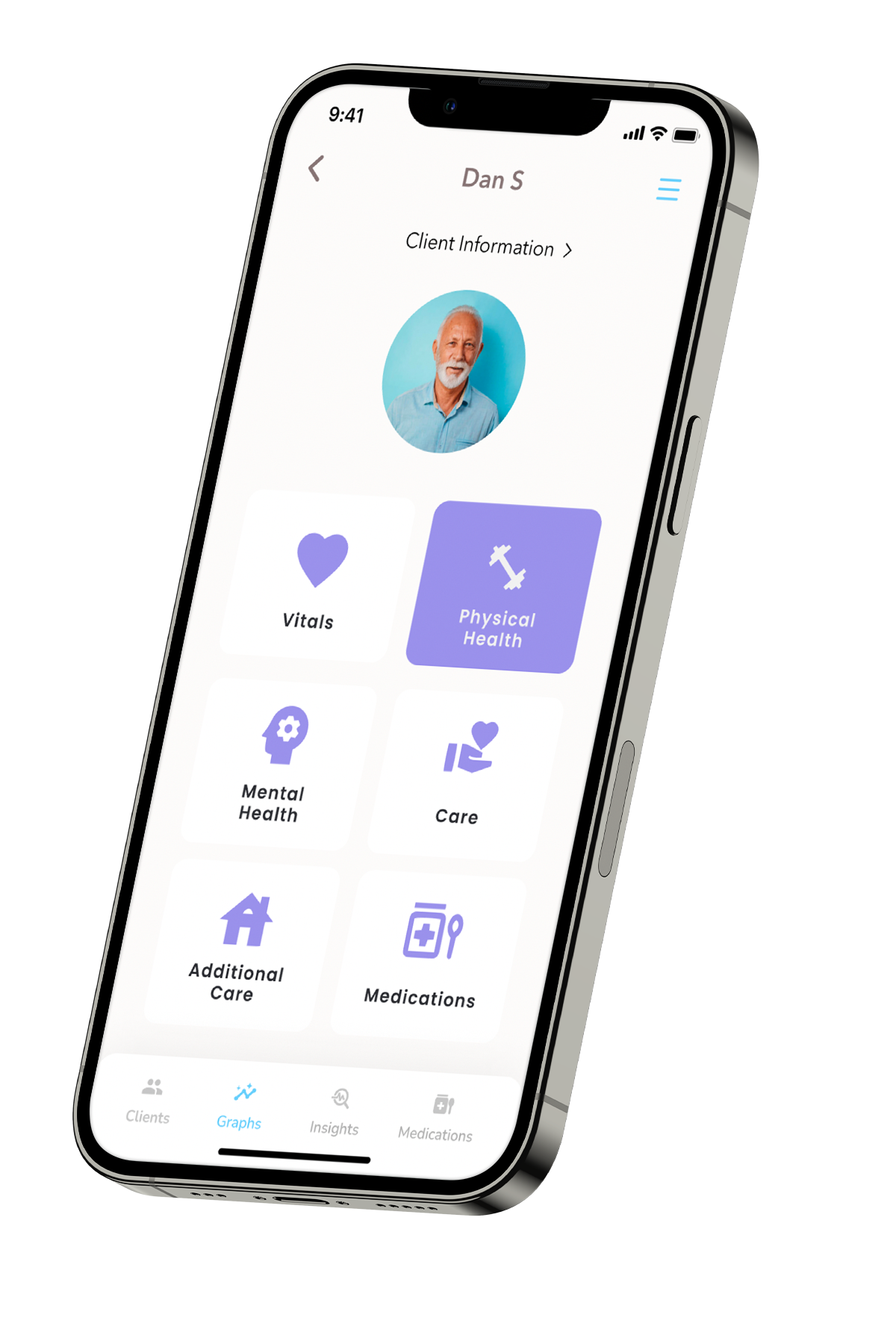 Our App Delivers
CAREgivers Insight's application allows caregivers to alter and provide proactive care through better insights. Caregivers answer customized questions based on one's diagnosis, with menu-driven, objective answers. Answers are transformed into graphs showing how they compare to historical baselines. These insights allow caregivers to alter daily care routines and proactively address potential issues sooner.
✓  Recognize and treat potential issues early
✓  Empower caregivers to alter care routines in-real time
✓  Share insights with everyone in the circle of care
✓  No typing or texting summaries
✓  Reduce unnecessary doctor and hospital visits
✓ Accurately administer and track medications
CAREgivers Insight is a tool that empowers even caregivers with no formal training to both understand health and care issues that need attention and alter daily routines. Our app helps family members record and share their loved ones' changing health condition with clinicians, therapists, case managers and family alike.
CAREgivers Insight's friendly guided interface is quick and easy so your staff can focus on emerging health issues. Accessible data gives everyone in the circle of care information to reduce stress and improve the quality of life.
CAREgivers Insight helps track clients' changing health conditions over time to improve overall health. Now you can schedule the right time for therapies and visits while guiding caregivers how to manage current and potentially emerging health issues. Our app creates more capacity while you keep the same number of staff.
CAREgivers Insight gives families real-time updates on how their loved one is doing. Now, your staff has more time to treat patients with potential health concerns and reduce preventable medical interventions. Improve your staff so they can anticipate and meet the care needs of your residents based on their health situation.
Electronic Medication Administration Record (eMAR)
Our Electronic Medication Administration Record (eMAR) helps to distribute medication safely, timely, efficiently, and accurately.  It eliminates paperwork and redundant documentation, reducing errors, and potential non-compliance, as well as time spent documenting. 
✓ Easy to implement, update, and use
✓ Know what time to administer specific meds
✓ Minimize errors: forgotten/missed, giving the wrong med at wrong time
✓ Alerts notify missed medication(s) or refill needs
✓ Date and time stamped when meds were administered
✓ Automated reporting and tracking
✓ Share records with care team and & family
Why Choose Us
For caregivers, from caregivers.
Caregiving is stressful both mentally and physically. Most of us weren't trained for this but we've learned valuable lessons and designed a tool to help.
Designed by caregivers for caregivers ranging from untrained family members to highly trained nurses. Learn how our app can give better insights and lead to better care.
No more typing summaries or texting. No more misinterpreting situations. Update health condition and care routines on the go, in real-time using our convenient mobile app.
Remove the subjectivity in answering care questions with objective data by a simple click-and-drag data entry method.
Keeping your family
healthy.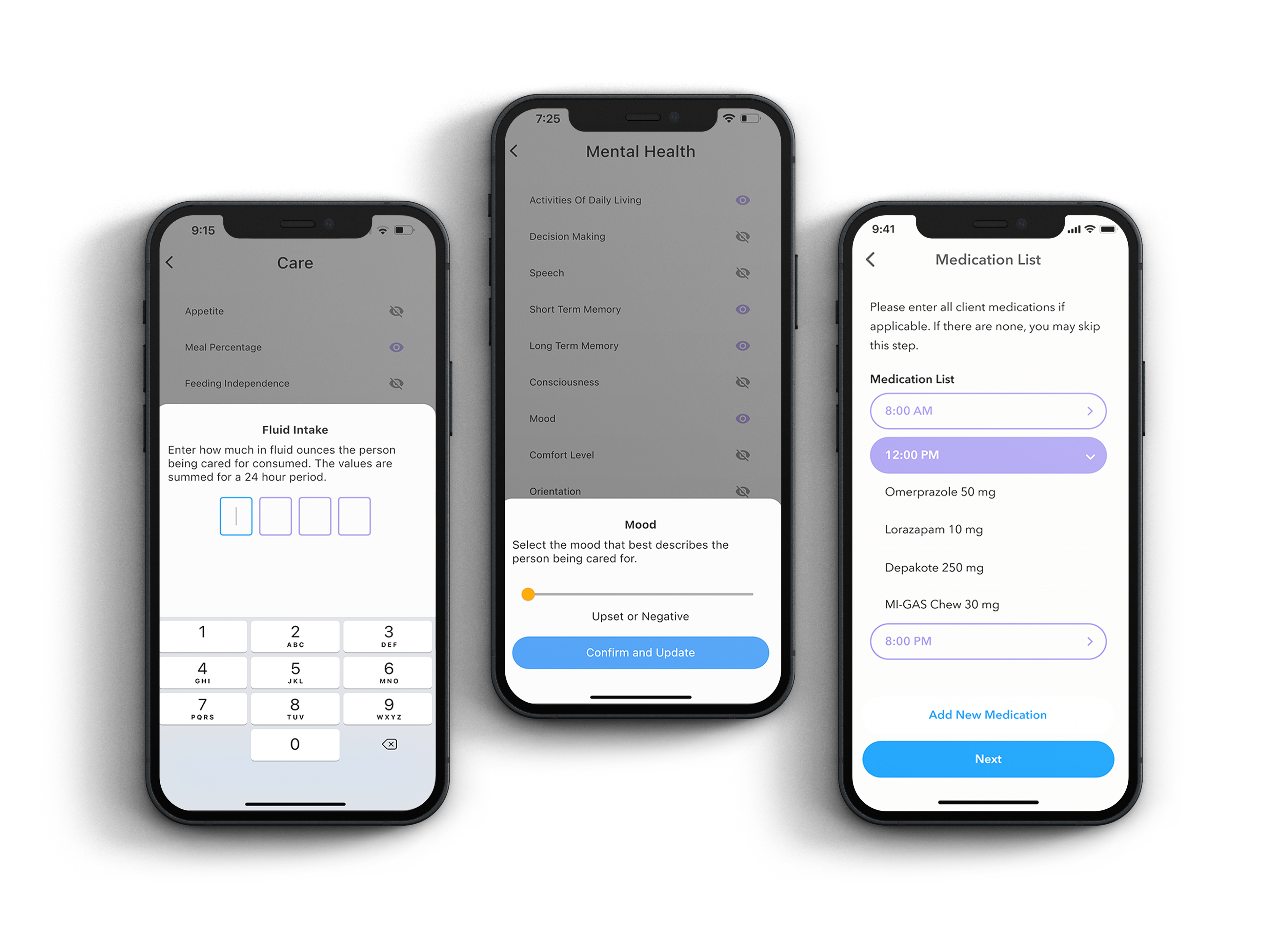 Data Insights
CAREgivers Insight tracks over 50 different insights. Customize the insights you want to track.  Change tracked insights at any time. Follow the link below to view some of the essential insights that are gathered to improve on-going appropriate care to loved ones and their supporting care team.
Electronic Medication Administration Record (eMAR)
Data Insights
Family, caregivers, therapists – everyone involved in the circle of care – can see how a loved one is doing at any time.
Real-time insights allow caregivers to adjust and provide appropriate on-going care faster than ever.
Customizable questions and insights paint a complete picture of your loved one's care as well as their physical and mental well-being.
Provides insights of a loved one's condition that can be shared within the circle of care.
Customize care to be more proactive, altering routines as needed.
Time Savings
Less time calling/communicating with caregivers, more time to care for loved ones.
Eliminate typing and handwriting notes.
Arrange schedule based on care needs.
CGI app collects historical information that caregivers log.
Historical trends and insights supplement telehealth appointments. Caregivers will then know how your loved one has been doing since the last appointment.
Caregivers can focus on relevant aspects of care that need attention and tracking while saving healthcare systems costs and resources.
Long-Term Value
Reduce unnecessary visits to the hospital or doctor.
Historical trending insights will allow for more appropriate, proactive on-going care.
Replace binders and notebooks with an app that goes everywhere you do.
Objective Information
Predetermined values within app interface that include various ranges.
Terminology defined to help reduce personal interpretation.
Our application is easy to use and easy to understand.